The winterless north is the ultimate recreational playground. It is all within 3-hours drive of Auckland, alternatively leave the car and you can fly up to Kerikeri where we can organise to pick you up.
We are the ultimate Paihia accommodation base and can book any activity for you. Enjoy special deals and discounts you won't get elsewhere!
Bay of Islands Activity Ideas
Waitangi Treaty House
Evening dinner cruises to the falls
Fishing charters
Cultural experiences
Sailing
Dolphin cruises
Golfing
Historic tours
Quad and horse back adventures
Coach tour to Cape Reinga and 90 Mile Beach
Kauri forest trails
Museum trails
Winery trails
Cruises on the bay
Scenic flights
Diving – sky and sea!!
Parasailing
Kayaking – We have our own Kayaks both single and double available for hire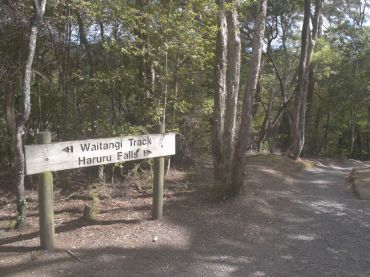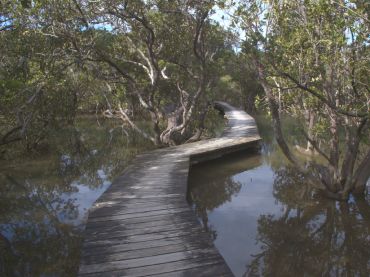 Free – Waitangi Track
Across the lagoon from Waterfalls Estate is the Waitangi Walking Track which leads into native New Zealand bush where you will see the top of the waterfalls, a Kiwi Reserve, shag and heron colonies. The track also goes via a boardwalk into the mangrove forest and ends at Waitangi in Paihia.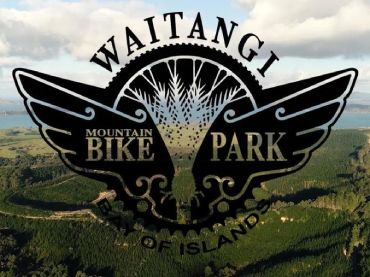 Waitangi Bike Park
30 scenic trails with downhill riding, jump trails, cross country and beginner trails. A manuka and punga tree-lined trail weaves its way through the tall pines which is a perfect climb in Summer. (Donations accepted).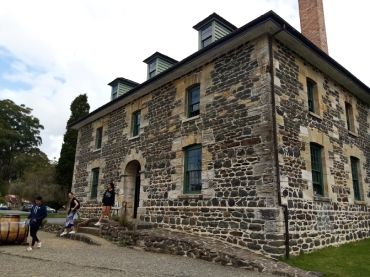 Kerikeri Mission Station
The Kerikeri Mission Station is the site of two of the country's oldest surviving buildings – The Stone Store and Kemp House. Established in 1819, the Kerikeri Mission Station is one of the first places in New Zealand where Māori invited visitors to live among them.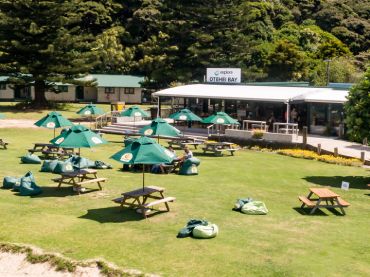 Otehei Bay
Tucked away off the coast of the Bay of Islands, Otehei Bay, Urupukapuka Island is a must-visit location for your summer travels packed with endless options for relaxing, exploring and refuelling, perfect for a solo adventure or with a group of friends and family.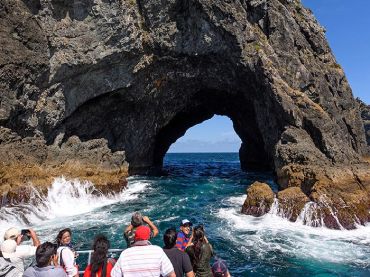 Hole in the Rock Dolphin Cruise
Set off on a half-day Bay of Islands cruise in search of dolphins and other marine life. Enjoy the views from our purpose built vessel as we journey right to the end of the Cape Brett Peninsula, to the famous Hole in the Rock on Motukōkako Island.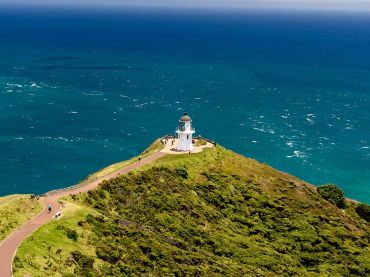 Cape Reinga and Ninety Mile Beach
A visit to New Zealand is not complete without a journey to the very top of the North Island – Cape Reinga (Te Rerenga Wairua). Uncover the wild beauty of this vast and untouched region, rich in Māori culture and tradition, on an action-packed full day return tour from Paihia or Kerikeri.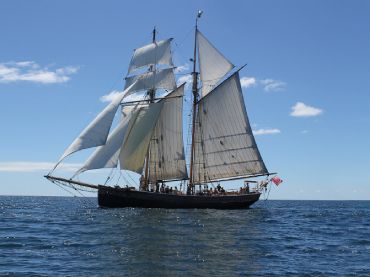 R. Tucker Thompson Day Sail
Experience a day on the water on the R. Tucker Thompson, a traditional gaff-rigged schooner with her own unique history. Choose to make it an active adventure, or simply relax while the crew command this impressive ship as it sails around the Bay of Islands.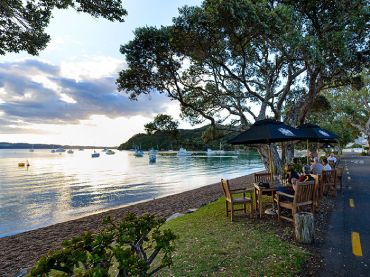 Russell Mini Tour
Take in the sights of Russell on an intimate one-hour coach tour combining historical knowledge and local insight. Learn about significant sites like Pompallier House and Christ Church and stand atop Flagstaff Hill for stunning Bay of Islands views.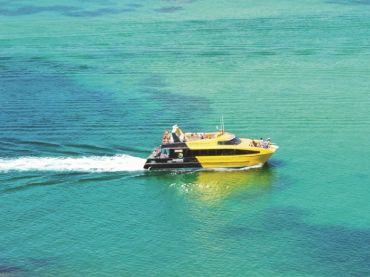 Discover the Bay
Discover the spectacular scenery, captivating wildlife and rich history of the Bay of Islands – visit the Hole in the Rock, spot marine wildlife and enjoy an island stopover on this 4.5 hour cruise.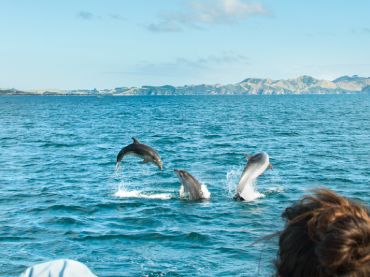 Dolphin Eco Cruise
Spot the abundant wildlife in the Bay of Islands including dolphins, whales, birdlife and more with our marine mammal viewing guarantee – come again for free if we don't spot marine mammals during your cruise.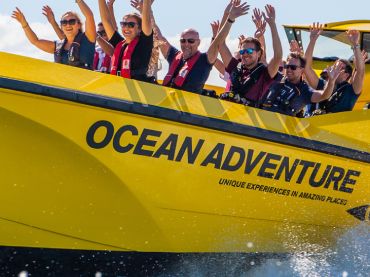 Ocean Adventure
Experience the thrill of Ocean Adventure – the fastest boat to the Hole in the Rock. On this 1.5 hour experience you will take in the abundant wildlife and breathtaking scenery along the way.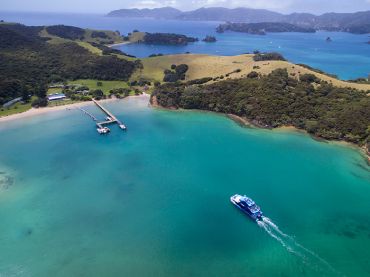 Cream Trip Super Cruise
Take this extensive full day cruise of the 144 Islands of Ipipiri – the Bay of Islands – and see all the highlights of this spectacular region including the historical cruise route of the original Cream Trip.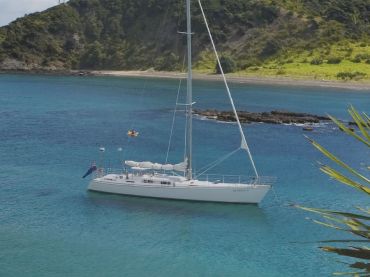 GUNGHA II Sailing Adventure
Awesome Bay of Islands day sailing adventures on the 65 foot ocean-going yacht GUNGHA II.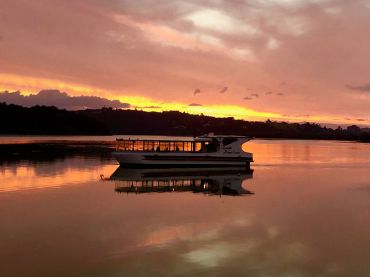 Darryl's Dinner Cruise
Join us on board 'Ratanui' for a lunch or dinner cruise. Two completely different experiences, both with a distinct New Zealand flavour!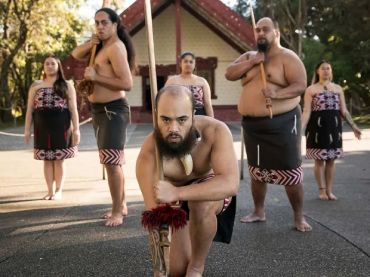 Waitangi Treaty Grounds
Waitangi welcomes you on a journey of discovery through New Zealand's most important historic site. Explore the two contemporary museums, Te Rau Aroha Museum of the Price of Citizenship and Te Kōngahu Museum of Waitangi, Treaty House, Te Whare Rūnanga and traditional Māori waka taua. Visitors can also enjoy a full program of tours and cultural performances.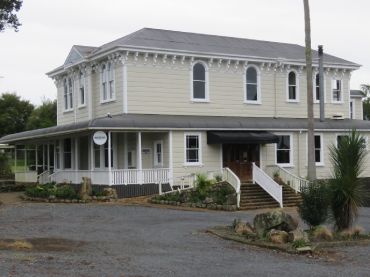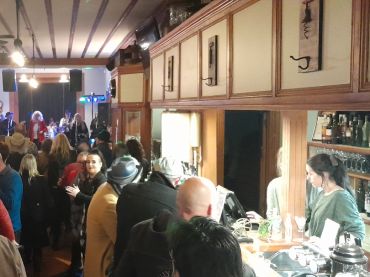 Twin Pines Manor - Restaurant & Bar
Located just next door, the Twin Pines is the historic site of New Zealand's first hotel. Guests are welcome to enjoy a drink or a meal in the relaxed 'old world' atmosphere. Live music is a feature of this venue, so enjoy a night out and walk home!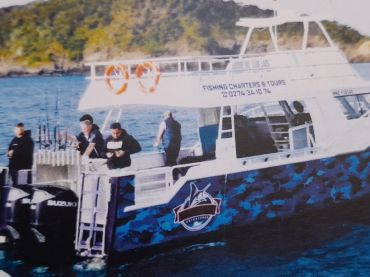 Major Tom Adventures
For an awesome day of fishing in the Bay you won't forget. Top quality, gear, bait and tackle included. Your fish filleted and bagged on the boat.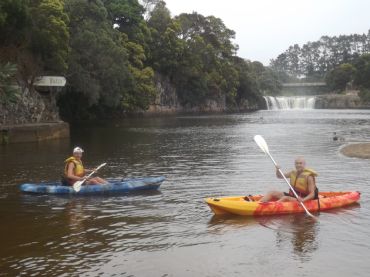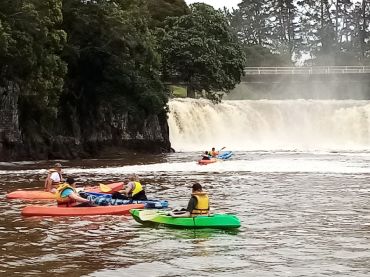 Waterfalls Kayak Adventures
Discover the waterfalls right up close in a single or 2 person kayak. Paddle along the ocean lagoon and explore the inlets of the mangrove forest. All equipment supplied. Great rates from just $15 per hour.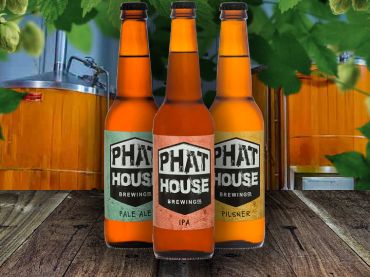 Phat House Brewing Company
A lifestyle brewery just 300 walk from Waterfalls Estate. Offers pizzas and bar snacks, entertainment and a great range of craft beers.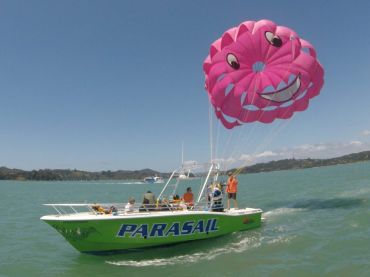 Flying Kiwi Parasail
Take a tandem para sailing experience above the waters of the Bay. Bring a friend and take an epic selfie at 1300ft of line. You get about 10 minutes of flight time and the whole duration on the water up to 1.5 hours depending.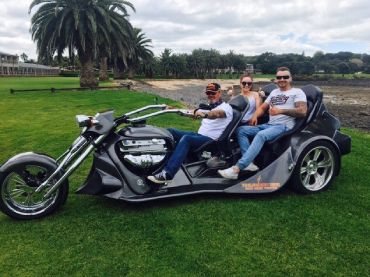 Thunder Trike Tours
Explore the Bay of Islands with a ride on the Thunder Trikes. You'll want to ride for miles on these trikes which have a low centre of gravity and are a thrilling way to see the beautiful scenery of the bay.